League of Legends codes
League of Legends players, just like any other human being, like free stuff. Whether we're talking about a free ultimate skin code or a mere summoner icon, if it's free, you can bet that League players will want it bad. Just like you, we're gamers that like free stuff and that's why we'll take a look at all of the places where you can get free League of Legends content for your account.
Free LoL codes
LoL Codes subreddit
Over the years, the number of sites where you can find free LoL codes significantly reduced, with Riot even removing the option to obtain free codes for Unchained Alistar, Riot Girl Tristana, and Dreadknight Garen skins in 2018. However, there is a reliable place to find free LoL codes and it is at the League of Legends codes subreddit.
LoL codes subreddit is the only place where you can get free LoL codes as the players occasionally give out free codes for RP and cosmetics. Sadly, some of the people on the site will try to waste your time by sending fake or reused codes, so look out for that as well.


Keep in mind that any person or a website that wants to share a free RP/skin code with you won't ask for any of your account/credit card information. You shouldn't share your sensitive account/credit card info with anyone on the internet, even if they promise to send you free stuff.
How to redeem your LoL codes
Once you've acquired a free code from any reputable source you need to redeem it by going into League of Legends Store -> Purchase RP -> Prepaid cards and codes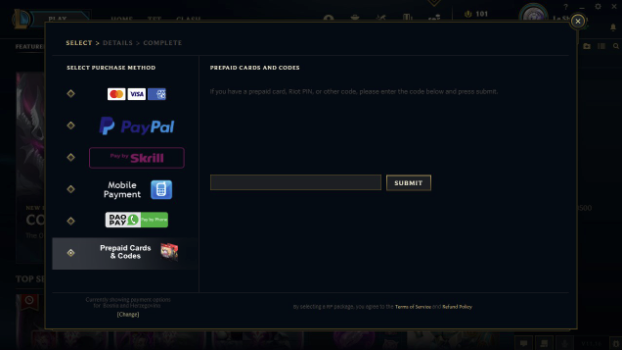 Turbosmurfs lootboxes

Since there is a bit of a drought of free League of Legends-related content out there, we've decided to host daily account lootbox giveaways on our website. You simply need to be a member of our Discord channel so we can track your winnings and the fun begins there. At that point, you'll be able to open a lootbox every single day that contains a guaranteed prize. How cool is that!
The prizes you can get
From our lootboxes, you can win a discount code ranging from 5% to 40% on our large offer of smurf accounts. Once you open your lootbox, your discount code will be automatically applied once you visit our accounts section on our website, where you can find smurf accounts for every region at unbeatably low prices.
The jackpot - free smurf account
However, the real fun of our lootboxes lies in the jackpot that you're able to hit. Should you win the jackpot, you'll be awarded a completely free League of Legends smurf account with fresh MMR, ready for a new ranked journey. Make sure to contact us in the Discord server if you've won a free account. There is a 24-hour cooldown on our lootboxes after which you can try your luck by opening a new one.
Why do we do this?
We're doing this giveaway because we feel that everyone should have a fair chance of owning multiple accounts as well as feel the thrill of opening one of our exclusive lootboxes. Additionally, if you're looking for more free stuff apart from the lootboxes we offer, we recommend visiting and participating in our Discord server where we share other giveaways for the dedicated members of the growing Turbosmurfs community.
Buy a premium smurf account
Last but not least, after you've taken part in one of our amazing giveaways, take a look at our offer of premium smurf accounts with fresh MMR. Our reputation as the most reputable and experienced organization in this field exceeds us, with hundreds of satisfied customers under our belt. We offer the most affordable prices on the best regular smurf accounts and handleveled ones on every LoL region, so make sure to check them out.